Substance Use Dependency is NOT a moral failure...
Substance Use Dependency is NOT a moral failure...
Saving lives, protecting people
CDC and Covid 19
In collaboration with Harm Reduction Michigan you will begin to see many Naloxone Distribution boxes throughout our 21 County region.
What Is Naloxone?

Naloxone is a medication approved by the Food and Drug Administration (FDA) designed to rapidly reverse opioid overdose. It is an opioid antagonist—meaning that it binds to opioid receptors and can reverse and block the effects of other opioids, such as heroin, morphine, and oxycodone. Administered when a patient is showing signs of opioid overdose, naloxone is a temporary treatment and its effects do not last long. Therefore, it is critical to obtain medical intervention as soon as possible after administering/receiving naloxone. The medication can be given by intranasal spray (into the nose), intramuscular (into the muscle), subcutaneous (under the skin), or intravenous injection. A practitioner should assess the need to prescribe naloxone for patients who are taking methadone or buprenorphine receiving or otherwise considered a risk for opioid overdose.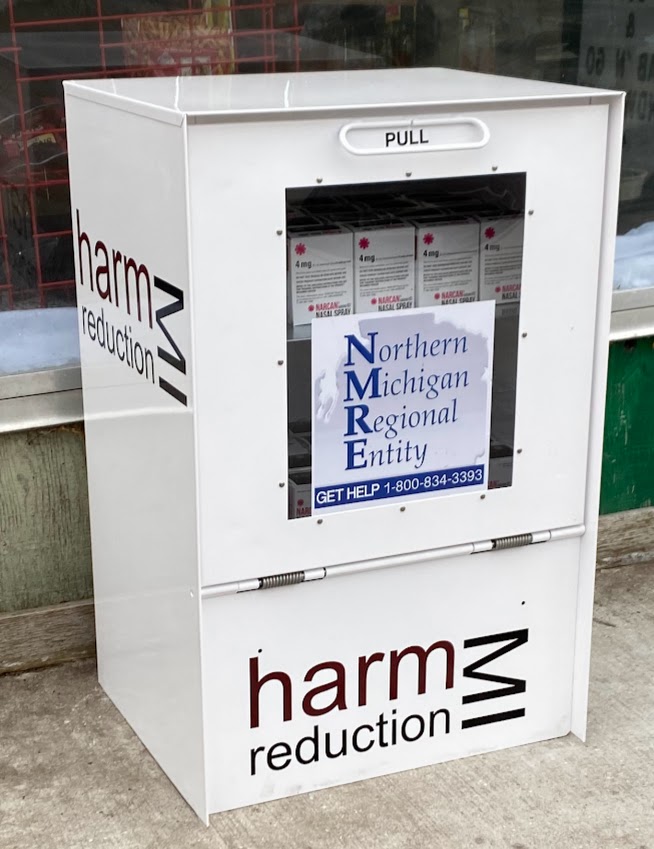 CLICK HERE TO SEE THE SERIES WITH JODIE SWEETIN
Proper Disposal is Key
Proper disposal of unused or unwanted prescription drugs is a key weapon in the fight against misuse. With proper disposal we can reduce instances of prescription drug abuse.
Watch the PSA
BE THE SOLUTION is a community education program of Northern Michigan Michigan Regional Entity. Our mission is to increase public awareness of the risks and potential harm associated with misuse and the extent of the prescription drug abuse problem in northern Michigan and encourage you to BE THE SOLUTION with practical steps you can take, right now.
Learn More
Fact:

There are over 23.5 million people in long-term recovery in the U.S. from a substance use disorder. People do recover and get well.

Fact:

167 Reported OVERDOSE Reversals with Naloxone Project- As of September 2020

Fact:

DEA National RX Take Back Day reported 33,343 lbs of Prescription drugs collected in Michigan on October 24, 2020 with 207 Collections sites now In Michigan.